Loneliness A Secret State
I love to hear the radio -
It's turned on all the time
It's playing when I fall asleep,
still on when I wake. It helps to hear a voice - not mine
and fills the lonely hours with sound....
I read the paper for a while
If news is good then I might smile
But if its bad it makes me sad
yet no one knows but me.
I check the weather one more time
It looks like rain..
I'll stay inside..and watch the raindrops
Rolling down the window pane...
Pretend they're horses on a track
Each one vying to be first back
I even make a silent bet
on who I think will finally get
home first
And sometimes I might even win...
Yet no one knows but me
I wash the dishes
Tidy round
And suddenly I hear a sound?
I check the door, my heart beats fast
Is someone calling round at last?
But no its just a crumpled flyer
advertising trucks for Hire
The radio news has finished now
It's time for midday chat
A phone-in show on gardening tips
I know nothing of that!
But listen anyway..who knows
I might learn something new
that I could use if in a crowd
and dont know what to do
Or say..
it's really hard to just converse
sometime when I' m alone,
i'll even secretly rehearse
Exactly what to chat about....
So i dont feel like I'm left out
Yet no one knows but me
The afternoon drags on and on
i'm happy when the daylights gone
I'll cook an omelette
Drink some tea
and wish I had some company
I like a game of Solitaire
It's company when no ones there
I cheat sometimes but no one cares
'Cause no one sees but me
The clock ticks on in monotone
I go to check the telephone..
But just as every other day
No messages...no one to say
'Hello how are you? Time to chat?
Yet no one else but me knows that....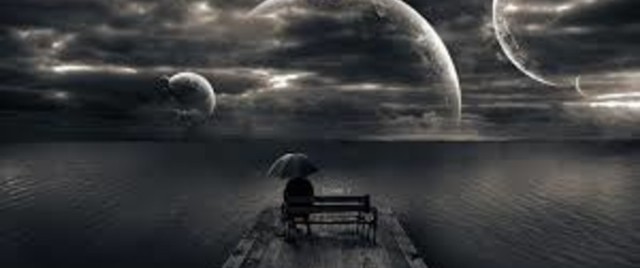 Sunday, October 15, 2017
Topic(s) of this poem: alone,loneliness,sad,secret,solitude
POET'S NOTES ABOUT THE POEM
solitude is a secret state, hidden and lonely