Atonement Broken (A Love Tale Of Menaka And Vishwamitra)
Sage Vishwamitra
deeper in penance
years has passed
never opened his eyes sparkling like fire
penance like unconquerable
Indra, the king of gods,
horrified overwhelmed
steep spiritual rise of
tapasya would make
sage very powerful
even conquer heaven
anxious Indra sent Menaka,
a beautiful dancer of his court,
to earth break his penance
a celestial nymph
spiritual powers.
Youthful and vibrant
Viswamitra with his eyes closed
She sang, danced,
garlands of fragrant flowers
put them around
Vishwamitra opened his eyes
O beauty of heaven
your body shines
like a diamond flame,
a spotless beauty
alike the moon's.
a black-eyed beauty
on the hill-top,
statuesque,
like a golden girl.
The hill, its creepers,
its bushes, all flamed
With the golden beauty
of the golden girl.
she appealed,
O chief of the majesty
your tapas is magnificent
O my Lord
surrendered my whole to you
marry me, marry me,
What worked once,
may work again
Sage felt lust and passion
well up inside him
saw her swimming naked
lake near the waterfall.
gave up penance to be with her
made love for years together.
Menaka had come with a mission,
but fell deeply in love
two shared a passion
experienced by none else
Vishwamitra came to know
Indra's devious trick
aware of Menaka's genuine love
therefore, merely cursed her
separated from beloved forever.
Menaka left for heavens
she was pregnant
a beautiful baby born
baby left at sage Kanva's ashram
to be continued..............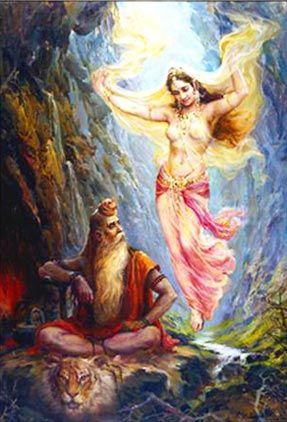 Tuesday, October 20, 2015
Topic(s) of this poem: beauty,love and life,lust,attraction,beautiful
POET'S NOTES ABOUT THE POEM
Once Sage Vishwamitra was performing a very difficult tapasya. Indra, the king of gods, was afraid that once completed, the tapasya would make Vishwamitra very powerful and he would even, So Indra sent Menaka, a beautiful dancer of his court, to earth to break his penance.find out the next here.....