While we travel in a bus in journey of night,
We wait for early morning to see ray of light.
Crossing far distance of hundreds of miles,
With hope and pleasure a sleepy man smiles.
Child sun rises with big round face in East,
Dancing veil covers and opens made by mist.
Smog spreads over and across the road long,
Birds fly in row with chirping and sing song.

Childish rays fall on palms passing window,
Mind fills with cheer of travelling in mid bow.
Bus runs ahead in between middle of a road,
New villages, new towns we see as it does hoard.

In waiting time goes hearing devotional songs,
Running with hope of destination it also bongs
The little vision spreads forward and we too see,
Creamy morning shines in East with new of flee.

Finally we arrive to our long destined new town
At that time almost it looks favourable brown.
Hearing sound of chanting verse from temple,
We thank God walk the street with new ample.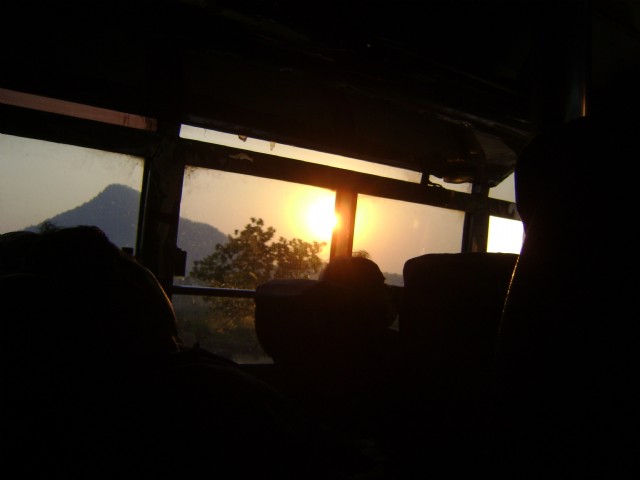 Wednesday, November 26, 2014
Topic(s) of this poem: beauty,journey,nature
POET'S NOTES ABOUT THE POEM
'While we travel in a bus at night journey, at that time to see ray of light we wait for early morning. Crossing hundreds of miles of far distance a sleepy man smiles with hopes and pleasure. In East with big round face child sun rises. Sun covers and opens dancing veil made of by mist. Across the long road and over it smog spreads. With chirping birds fly in row and sing eagerly.Childish rays of sun fall on palm passing through window of bus. In mid bow mind fills with cheer of travelling. Bus runs ahead in between middle of a road. As it hoards we see new villages and new towns.While waiting, time goes in hearing devotional songs.It bongs running with hope of destination. We too see the little vision spreads forward.With flee of new, creamy morning shines in East.Finally we arrive to long destine new town.It looks favourable brown at that time.From temple chanting of verse comes.Hearing this we thank God.We walk the street with new ample.'This poem is based on such theme. This is written in Deogarh, Odisha, India and dedicated to the people of the world.