The Prisoner (Bonnie, Her Imagined End After Clyde Is Killed)
BONNIE'S POEM

01:
Dull the prison walls were gleaming In the moonbeams golden glow
On that lonely July evening
Near a couple of years ago

02:
And behind the steel barred windows
Stood a prisoner just a girl
With her fearless blue eyes weeping
Haunting for the outside world

03:
All along the moonlit spaces
Stealthy shadows softly crept
Till at length exhausted prisoners
Closed their weary eyes and slept

04:
Came a hand laid on her shoulder
And her buddy ill at ease
Lest her friend be too despondent
So she then began to tease

05:
''Come my pal and sit beside me
Tell me what is on your mind
You have shared with me your pleasures
Now your sorrow should be mine''

06:
Said the sad one for an answer
Dear my time is almost done
Now I leave you on the 'morrow
By the setting of the sun

07:
Fair you are my little partner
What a pal you've always been
And upon my sad departure
You will take my ownings then

08:
Send my letters back to mother
They are tokens of her love
Tell her dear to please don't worry
I will wait for her above

09:
Tell her that I love her dearly
Make a promise now to me
That you'll go and live with mother
Make her happy when you're free

10:
Here's a picture of my darling
I shall trust unto your keep
He was killed when I was captured
Now he rests in peaceful sleep

11:
All those years I stayed beside him
For my love for him was true
And I was tried unjustly
For a crime I didn't do

12:
All this time I've been in prison
Days & nites have been so blue
Till I have begun to wonder
If the tales of God are true

13:
When the skies are grey above me
And the earth is cold & grim
And when all my tears and pleadings
Brings no answer down from him

14:
Dawned the next relentless morning
And the sun's unpitying eye
Looked upon the haggard prisoner
Looked to see her slowly die

15:
All day long the mournful whispers
Came from prisoners clad in grey
Mournful whispers for the deed
And whose pardon came that day

16:
Dull the prison walls are gleaming
In the moonbeams golden light
Shadows on another convict
At the cold steel bars tonight

17:
Many be the innocent victims
And their sorrows are not few
Who have sacrificed their freedom
For a crime they didn't do

END


Historical Note:

In this poem written near the end, in the spring of 1934, Bonnie Parker foretells her own end, after she ''goes down'' with Clyde Barrow and is captured after Clyde is killed.

But the end Bonnie predicted for herself in this poem, was not to be. A few seconds after Clyde was killed with two rifle shots, Bonnie, screaming (in shock, confusion and horror, followed by anger and rage) , died in a volley of bullets, as six Laws unloaded every gun they had, at a car in which sat a screaming Bonnie, sitting beside a dead Clyde.



01:
In this poem Bonnie looks back from the future, as if being her own story teller, back to the night in prison before her execution, the day of her execution and the nightfall again following her execution. The timespan of this poem is some 24 hours.

02:
Bonnie tells us in this poem that she was fearless, although she was weeping and wishing she was free.

03:
Bonnie imagines that the prisoners are all housed together in one big communal room, where they can move around and socialize with each other. This seems to have been the case for Clyde in the Huntsville penitentiary and Clyde would have told Bonnie about what prison was like for him and Bonnie will have assumed that it would be the same situation for her.

04:
Bonnie again alludes to her fear of abandonment by imagining that in prison she will find a buddy who will care for her and be there to comfort her in her moments of need.

05:
Bonnie's rationale is that if someone has shared their good times with you, then you are expected to share their bad times with them also. Bonnie's loyalty was based on this rationale. Clyde shared his good times with Bonnie and as a result Bonnie considered herself obligated to also share the bad times with Clyde as well, so she stayed with him till the last. Out of fear of abandonment Bonnie was a pal to others as a reflection of her need for others to be pals to her.

06:
Bonnie tells her prison pal that her time has come to an end and that she will be executed tomorrow before the sun sets. This is Bonnie's imagined prison situation. In reality Bonnie would have been held in isolation in the days before her execution with no contact with other prisoners.

07:
Bonnie is informing her prison pal that following her execution, her prison pal will take possession of Bonnie's property. This is Bonnie imagining the course of events. In reality Bonnie's property would have been collected by prison officials and either destroyed or turned over to Bonnie's next of kin.

08:
Bonnie so beautifully says how the letters from a mother are tokens of a mothers love and asks her prison pal to save them and return them to her mother. And to tell her mother to not worry, that she will be waiting for her in the afterworld.

09:
Bonnie asks her pal to tell Bonnie's mother that Bonnie loves her dearly. Then counsels her pal that one's mother is the greatest treasure one has and suggests she should go and live with her own mother and make her happy when she is free.

10:
In this poem Bonnie tells us that she expected to be captured when Clyde was killed. All she now has left of her darling Clyde is a picture and this picture is her most treasured possession and she values her pal so greatly that she will entrust her most treasured possession to her.

11:
She confirms that she stayed with Clyde through it all, because her love for him was true. She tells us that she considers herself ''tried unjustly'' by the law, where in her mind, her only real ''crime'' was her 'love for a man'. Bonnie wished for her love to be 'free' and 'above the law', while in reality she could be considered an accomplice in numerous felonies.

In Bonnie's time, women were not expected to live independently, and for most women it was impossible unless they were able to find some of the few women's jobs available, and then at poor pay, so that they were in perpetual poverty. So the society of that time trained women to give themselves up completely to their man, regardless of whether he was 'wrong or right', and to stay by his side 'for better or worse' till 'death do us part'.

Bonnie fulfilled those teachings 'to the letter'. She always 'followed' Clyde and 'deferred' to his lead in all things and was never the leader or instigator herself. Although she was a dogged and loyal follower and helper to Clyde in his 'life's journey', as she had been 'trained by society' that a woman to a man should be.

She considered that the Law by which she was being tried legally, as an 'accomplice', was not fair in consideration of the social teachings of women and women's enforced place in society. In this way she felt, in her mind, ''tried unjustly for a crime I didn't do''.

Bonnie is here also alluding to the Easter Sunday 1934 killings of to highway patrolmen at Grapevine, who she was falsely accused by an 'eyewitness' of having walked up to while they were lying injured on the ground and executing them 'point blank'. She felt this false accusation had sealed her fate in the electric chair.

12: and 13:
Bonnie tells us in this poem that she feels that God has abandoned her. Although she never abandoned God herself and when she was killed with Clyde in the ambush, she was wearing a cross and also a three acorn brooch representing the holy trinity.

14:
She also tells us that she expected to ''slowly die'' in the electric chair.

15:
There is no happiness on Bonnie's final day. The prisoners are both mournful for those who got the 'deed of execution' for their sad fate and also mournful for themselves staying behind as others got their pardons.

16:
And so that night Bonnie is no longer there, she's 'left the house' her traces 'washed away' to oblivion. Bonnie's place at the same cold steel bars is taken by some other prisoner, just as Bonnie had taken the place of some other prisoner before her.

17:
This is perhaps the last poem stanza that Bonnie ever wrote. It is very moving as Bonnie's otherwise neat handwriting suddenly breaks into a shaky scrawl at this last stanza, indicating that she has become emotionally overwhelmed when writing this stanza and is probably writing while sobbing heavily.

Towards the end, sensationalized newspaper writeups about Bonnie, especially those concerning the killing of the two motorcycle officers at Grapevine Dallas Texas on Easter Sunday 1934, which were based on false testimony by an 'eyewitness', that claimed Bonnie had walked up to the officers lying on the ground and executed them 'point blank', devastated Bonnie. She was very emotional about being accused of something she didn't do.

Bonnie would also have known about the long prison term Blanche got, which Bonnie would have felt most unfair, as Blanche had only been tagging behind her husband Buck Barrow and was otherwise, unlike Bonnie, not a participating gang member.

Bonnie felt she didn't stand a chance in court, with all the false accusations being published about her, and was distraught about being falsely accused.

It is unknown whether Bonnie knew that her sister Billie had been arrested at Gladewater Texas, five days before Bonnie was killed. Bonnie and Clyde were contacting with Billie and other accomplices at Gladewater in the weeks and days leading up to their deaths and the Laws arrested Billie preemptively to 'get her away' from Bonnie and Clyde as they finally 'tightened their net' on them. The Laws knew it was a 'false arrest' from the outset as they knew Billie was not involved with the killing of the Grapevine patrolmen. It is very possible that Bonnie was aware, which would explain why Bonnie and Clyde seemed nervous and distraught to Rosa, as they sat in her cafe in Gibsland, Bienville Parish, Louisiana just days before they were killed.

It is thus quite possible that this poem was written by Bonnie sometime in April (after the Grapevine killings) and May 1934 and quite possibly in the seventeen day period in May between the time Bonnie and Clyde last saw their families (when Bonnie gave her mother a handwritten copy of her poem 'The Trail's End') and their deaths, possibly even in the last five days after Billie was arrested. In these last days Bonnie got very introspective, telling a boy (Percy) on the Monday night, two days before their deaths, while riding in their car returning from a party they had staged at Black Lake, to ''never go crooked, it's for the love of a man that I'm gonna have to die, I don't know when but I know it cant be long''.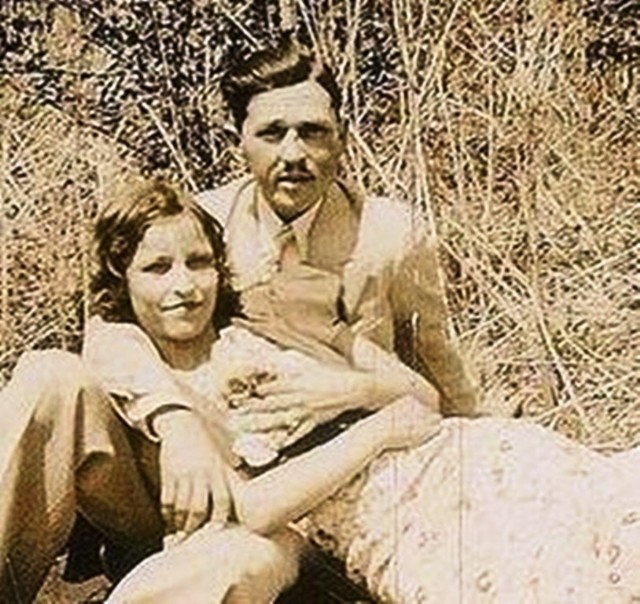 Sunday, November 15, 2020
Topic(s) of this poem: sorrow,death,prison