Perhaps I Am A Flask Of Flesh
and alabaster.
Waiting for the perfect coffee beans
to match my inner water.
Learning to breathe and
slow brew life into art and vice versa.
Words, sounds, rhythms, shapes, smells
and so on.
Missing nothing and processing what I want to
in good time.
Perpetually providing dew drop sized
drops of pure delight and
flushing out the useless.

Yes, that is how I will roll.
Standing back as often as possible.
Breathing, and ACTION …

PERHAPS I AM BLUE SKY

red earth, never-dark night, smog-filled day.
Green forests. Deep blue waters. Deserts.
Swirling winds and, of course, .a clown without a circus
with golden goggles and muddy feet.

I WANT TO BE

the Karoo thrush
diving through suburban undergrowth
as Bloemfontein fills with white butterflies
for a day.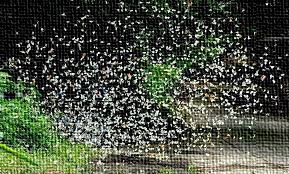 Saturday, April 13, 2019
Topic(s) of this poem: butterflies,creativity,existence
POET'S NOTES ABOUT THE POEM
Processing life into art is an art of essence, in my experience. Which experiences, thoughts, feelings do I use, which do I let go? Do I really have a choice. Perhaps it's all good, or not...